One Funnel Away Challenge Review

Just over a year ago now I was a complete novice to the idea of sales funnels. I had an understanding of how they work and what their purpose was but I had never actually built my own one from scratch. Having been exposed to media marketing starting from television at a young age and moving onto the internet has made me somewhat of a skeptic when it comes to people making a pitch to tell me how great their product is and all of the amazing things that it can do, and let's be fair Russell Brunson from
ClickFunnels
is the ultimate salesman, even the
One Funnel Away Challenge landing page
is testament to this fact. ClickFunnels is quite good at using messaging like this to draw you in:
You are just one funnel away from the creation of a well-designed, strategic sales funnel that can result in thousands in revenue for your business.
The truth is, there are a lot of people out there trying to convince you why their product is the best. However, your opinion isn't worth much unless you can also witness firsthand similar results. So to begin with I was a skeptic and was holding onto the fact that the One Funnel Away Challenge offers you a 30-day money-back guarantee if you don't end up getting the results that you have been reading about. That seemed like a good deal to me So I went ahead and signed up for the
One Funnel Away Challenge
, which is the flagship training guide to ClickFunnels created by its founder
Russell Bruson
. Based on my own experience taking the program, I'm going to expose all the details you need to know about this popular training program. Keep reading my one funnel away challenge review:
Who Is Russell Brunson?
The acclaimed online marketer, public speaker, and co-founder of ClickFunnels has helped millions of marketers worldwide for the past 15 years. He really knows his stuff. Through his book
DotCom Secrets
: The Underground Playbook for Growing Your Company Online with Sales Funnels, he popularized the sales funnel concept. This is an essential book for anyone in the online sales and marketing fields. Read my review of
who is Russell Brunson
. As well as
Expert Secrets
, Russell wrote
Traffic Secrets
. All three books together are called "The Secrets Trilogy," and they are free of charge and you only need to pay for shipping. These books are vital if you are going to succeed online.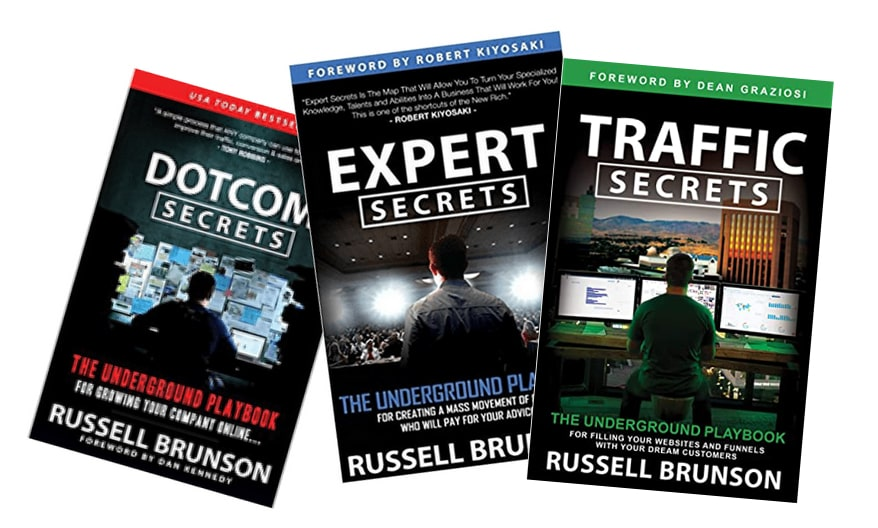 After selling more than 140,000 copies, Russell Brunson's book Traffic Secrets is on the New York Times Best Seller list. Russell Brunson is considered a successful entrepreneur, having built a 360 million dollar business. He founded ClickFunnels in 2014, and it was entirely funded by Brunson's Etison, LLC. Brunson founded the company with Todd Dickerson and Dylan Jones. Here's a One Funnel Away Challenge review that includes everything you need to know about this program and how it can help you succeed as a business owner. My One Funnel Away Challenge review is perfect for anyone completely new to sales funnels who wants a no-nonsense introduction to this popular training program. This is the article I wish I could have read when I was weighing whether to sign up for this program. Firstly though, let's clear this one up.
What is a Sales Funnel?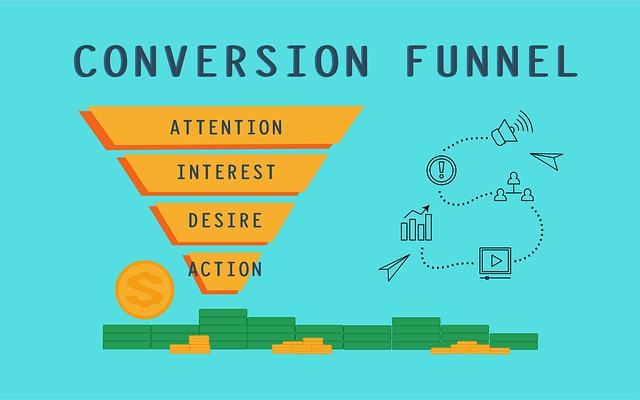 Before I get started with the finer details of the
One Funnel Away Challenge program
, I want to quickly highlight the importance of funnels. Without truly understanding why sales funnels are essential to your online business, you won't fully realise why the knowledge taught to you in the OFA Challenge is so valuable. See
what is a sales funnel
in more detail. If you're brand new to selling and marketing online, you won't want to skip this part. The sales funnel is a series of actions that guides the customer towards your offer, regardless of whether it is a product, service, or affiliate sale. Properly constructed funnels act as salespeople who hold the hand of your prospects, show them the way, and encourage them to buy. Buying coffee, getting groceries, and shopping online for items of interest are all sales funnels we take part in every day. If you're a smart business owner, you should know how to optimize your funnels to get more clicks, leads, and sales. Despite their complexity, sales funnels can be difficult to build, and if you don't know what one looks like, you might end up causing more harm than good. Poorly-designed funnels result in a low conversion rate and frustrated customers because prospects leak out. On the flip side, a cleverly created funnel can be the exact thing that you need to scale your own business. You're going to learn everything you need to know about creating high-converting sales funnels for your business with the
One Funnel Away Challenge
. Okay, let's get cracking! More on my one funnel away challenge review..
Try the One Funnel Away Challenge
What is the One Funnel Away Challenge?
One Funnel Away (OFA) Challenge
is a 30-day virtual program that guides you step-by-step through the process of creating a highly profitable sales funnel. When I was just getting started with sales funnels, I took the challenge myself. Russell Brunson, Stephen Larsen and Julie Stoian are the course instructors. They will be showing you via video instruction, everything that they've learned in the development and creation of multiple million-dollar sales funnels. Each day, the team break down complex topics to make them much easier to understand and give you tasks (called missions) that need to be completed in order to proceed to the next step. Statistics show that people retain up to 85% of what they learn if that theory is immediately put into practice The missions that are daily set by Russell aren't particularly difficult to complete; but they are, however, created to stretch your mind beyond your comfort zone and make you think outside the box. When the 30 days are up, you will be able to release (or launch) your first funnel.
Who is the One Funnel Away challenge for?
The One Funnel Away Challenge has to be the most effective of all the ClickFunnels training products. This challenge is designed to help you start taking action right away, consistently, and for the duration of the challenge. Within 30 days, you will have everything you need to build, create, launch, and run profitable sales funnels, but the goal is a professional one: to have everything you need to build, create, launch, and run profitable sales funnels.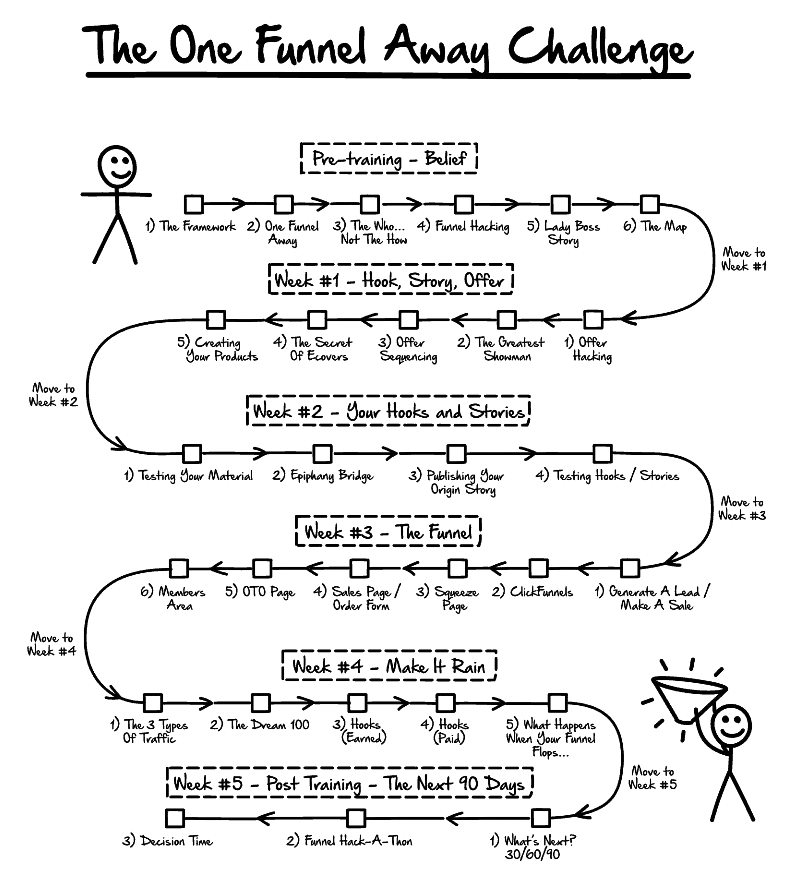 Is the One Funnel Away Challenge right for you? It certainly isn't for everyone. For 30 days, you must dedicate your time and attention to this fast-paced challenge. Now this challenge is the perfect course for you if you are:
An affiliate marketer who doesn't want to waste time creating products but is good at leveraging the offers that already exist on the web today
Don't know much about the online marketing of your products/services but you have a great idea for an online business
A lifestyle entrepreneur seeking diversification of income streams
Want a structured approach to taking your business to the next level but have reached a wall.
You have never built a funnel before but want to learn all there is to know about building sales funnels
Need to upgrade and make your existing funnel or multiple sales funnels even better
Someone that wants to start their own business online.
Is the One Funnel Away Challenge Worth It?
The Challenge is up to you to decide whether it's worth your time. After you have read all of the reviews about the One Funnel Away Challenge and might still be sitting on the fence as to whether or not it is right for you. Take a look at the
One Funnel Away Landing page
before making a decision.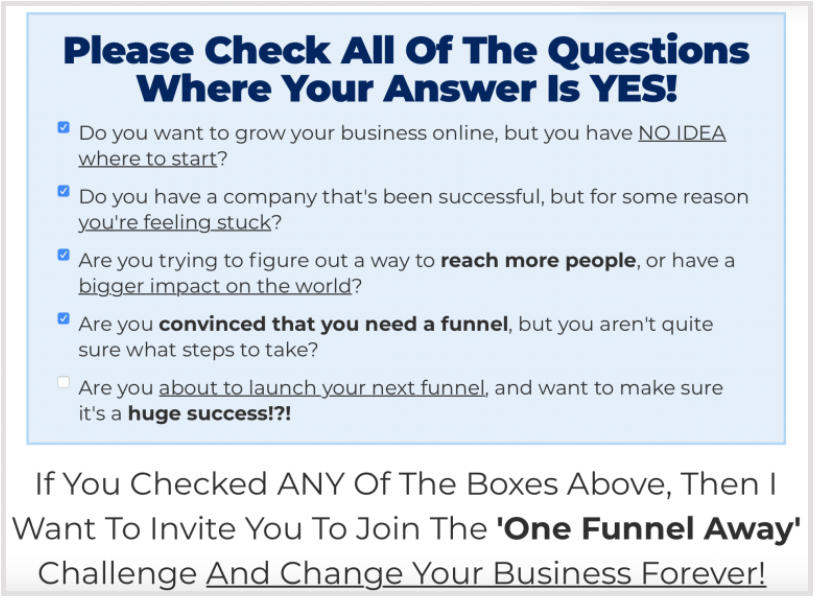 What do you get with the One Funnel Away Challenge?
There's nothing better than making money online the right way. The
One Funnel Away Challenge
is a great course designed to help you achieve this. If you choose to pay for shipping, you will receive a box filled with materials and resources delivered to your door to help you (everything else is done online). Here are all of the materials that you will get
30 Days of Video Coaching / Missions from Russell Brunson
For 30 days Russell will send you various missions on a daily basis (akin to homework) that will simplify the funnel-building process.
30 Days of Live Coaching From Stephen Larsen and Julie Stoian
Another seven-figure entrepreneur, Julie Stoian, offers advice on exactly how to implement Russell's missions. You can count on her to get things up and running and guide you through the funnel creation process. Stephen Larsen, the former Lead Funnel Builder for ClickFunnels, has built more than 500 sales funnels. After Larsen left ClickFunnels, he went ahead and created his own company from the ground up which generated over $1 million in only 13 months. You can count on Stephen to hold you accountable by holding daily group calls. Unlike most people, Larsen is straight-shooting and will tell you what you need to hear.
Digital Workbooks for each Mission
Taking part in the one funnel away challenge every day will give you a task to complete every day. Ultimately, this will help you build your funnel and launch it. And here is the bonus workbook for the one funnel away challenge. To help you with the video training, you can use the OnePager digital workbook. As you go through the video lessons each day, you can refer to the OnePager digital workbook for assistance. In the OnePager Workbook, each work page includes:

There will be a list of tasks you need to accomplish that day.
Every day's mission is accompanied by video training links.
There is a blank space for you to write your journal and ideas.
Links to additional resources you will need to complete the day's tasks
30-day access to the OFA Challenge Facebook Group
One Funnel Away
participants get access to an exclusive Facebook Funnel Hacker community full of like-minded entrepreneurs. Learning to build funnels is daunting and can be a turn-off for beginners. The advantage of having serious marketers at your disposal for no extra fee at any time is excellent. In that way, you can get any questions you may have along the way answered quickly. They provide great support, I promise.
Bonus Private "Big Breakthrough" Training in Private Group
The private Facebook group will be updated each day with a new mission from Russell. The videos last about 30 minutes. The strategy that you need to succeed at each step will be presented to you by them. There will be an opportunity for you to network with coaches and other One Funnel Away Challengers going through the same challenge as you.
The 30 Days eBook (By "Two Comma Club" Winners!)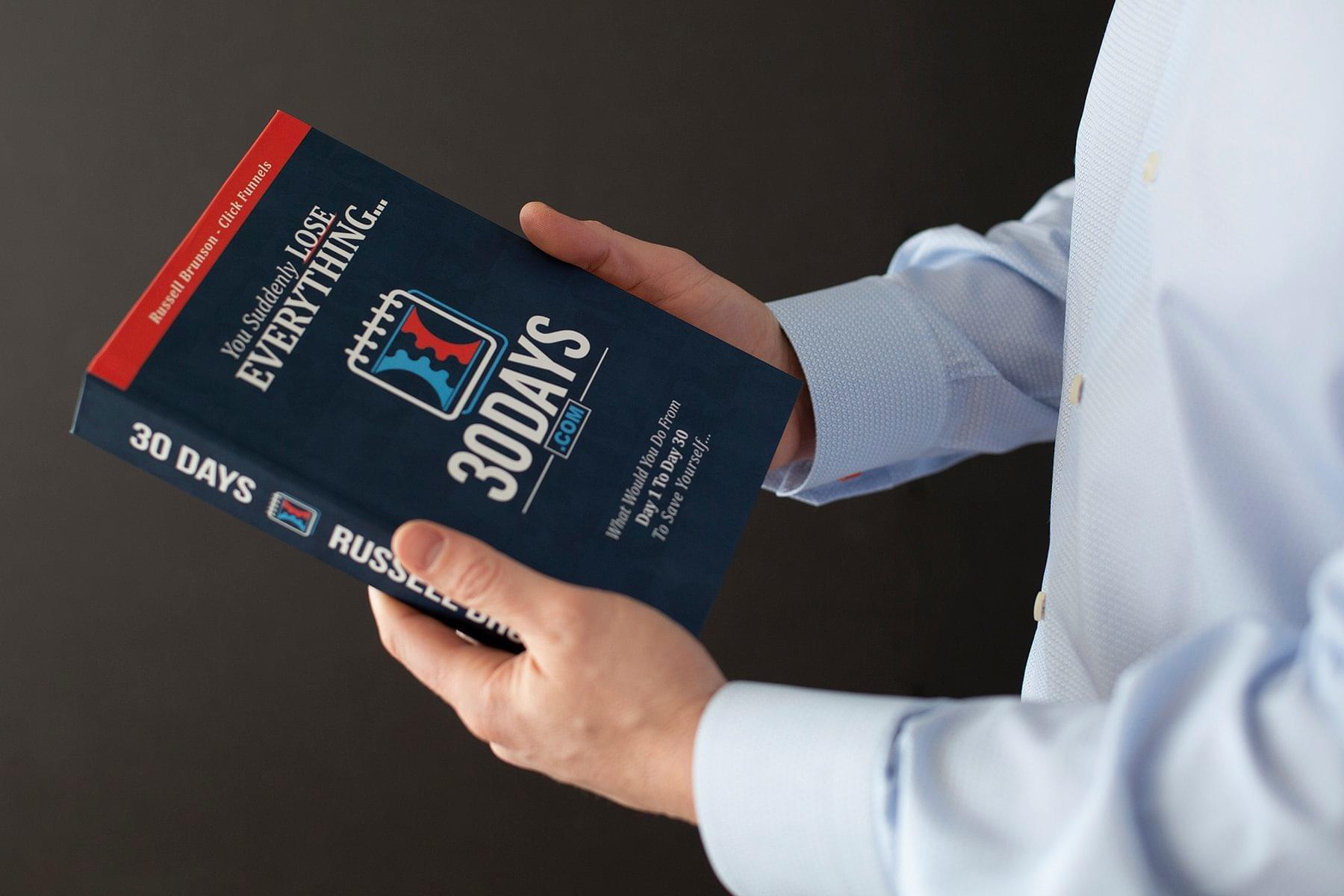 A few months ago, Russell asked 30 members of his Two Comma Club (ClickFunnels members who have earned more than $1 million from their sales funnels) the following question: "what would you do if you lost everything, including your name, reputation, and followers? How could you earn back the millions in only 30 days?" So he asked the members of the Two Comma Club to provide a step-by-step plan for those who are just starting out, in order to reach $1 million in sales. A hardcover book containing their answers was compiled. This is akin to having 30 different blueprints for building out your million-dollar funnel all in one place. Just having this bonus by itself is fantastic.
One Funnel Away Challenge bonuses
The above training videos and accountability calls are worth more than $2,000 when offered individually, and quite frankly, they are all you really need to create your funnel. But like any good salesman, Russel Brunson also throws in a bunch of bonuses to make signing up to the challenge even more compelling. Here are the One Funnel Away Challenge bonuses you'll get thrown in immediately after you enrol.
Unlimited access to the 30 Day interviews
Your 30-day challenge will involve completing missions and building your own high-converting funnel. Despite the fact that the interviews included in this bonus offer numerous useful tips, if you can't watch through them all in 30 days, you'll still have access to them afterwards.
Behind the scenes of the "Two Comma Club" Funnels and Interviews with the Two Comma Club
The interviews will explore 30 Two Comma Club members' mistakes over the years (so you can avoid them) and what they did right (so you can replicate their success). Exclusively for those participating in the OFA Challenge, they don't hold back with their interviews. The total value of this comes in at $3,126, and it's all yours for just $100
Throughout the One Funnel Away Challenge, What will you learn?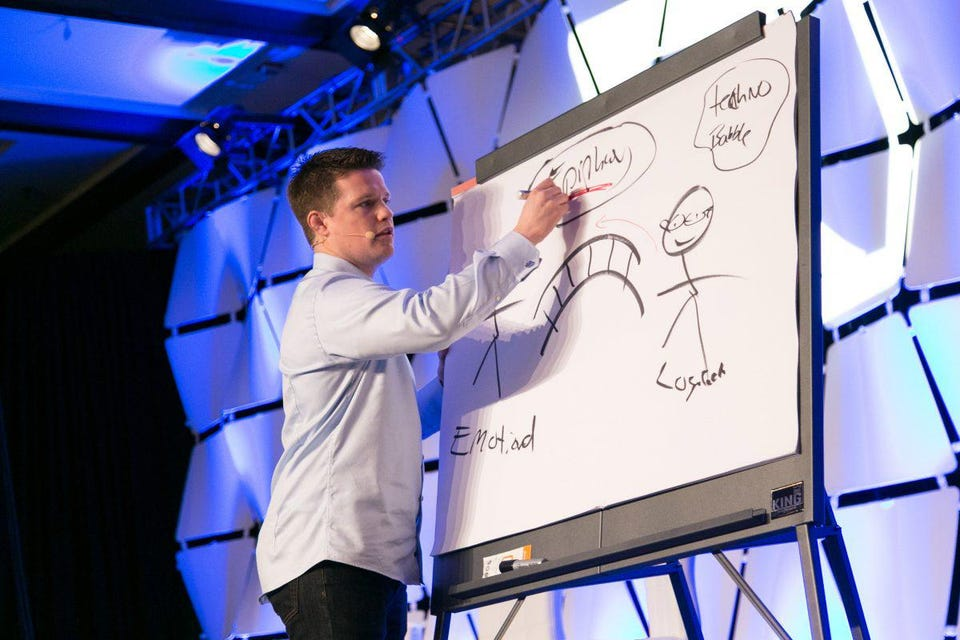 The 30-day challenge will require quite a bit of time from you. That is, you need to give your strategy time to mature in case you miss something, fail, and then say that it didn't work. Getting started is the key to success. Get your mindset right and tackle each lesson one by one. The weeks of training that you will receive can be summarised as follows:
Pre-challenge week
Russell wants you to believe you can succeed in order to achieve success. You need to realize that you are only one funnel away from living the life you've always dreamed about. Many people fail to achieve anything because they hold limiting beliefs that prevent them from achieving anything. Before you get started with your 30 days of training, Russell focuses on removing your mental obstacles in order to re-establish your ability to succeed.
One Funnel Away Challenge Week 1
The first week of training will cover how to create an opening statement, an offer, and a story. Building an effective hook will help to draw people into your funnel. Creating an attractive offer requires delving into the world of effective story-telling, and digital marketing must evolve to keep up with the times, the art of story-telling has changed too. By relating to a person and demonstrating that you are aware of their needs, you can sell to them. Finally, you will learn how to structure your offer. Now that you have introduced the hook, you will learn how to create a product that will attract people into your funnel and ultimately make them into paying customers.
One Funnel Away Challenge Week 2
The second week is about creating effective sales copy and creating a beta launch for your product before it's ready to go live. This course will show you how to implement hooks, tell a story that creates an emotional reaction from your reader and create the perfect sale moment in the minds of your audience.
One Funnel Away Challenge Week 3
In the third week, you will be focusing more on the funnel building process of creating your first sales funnel. The training will show you how to make a landing page, make your first sale, use ClickFunnels (funnel building software), create a one-time offer, and manage a membership site once you've built your list. At this point, you feel more confident in what you're doing, and the power starts to come your way. With your funnel created, you now have a one-time offer to attract people, a signup page to direct people to, and a way to promote your offer with your sales funnel. Now that you have created the funnel, you are good to start putting it into action.
One Funnel Away Challenge Week 4
Week 4 aims to help you increase traffic and promote the site. Your funnel will get traffic and begin generating sales once you know how to drive traffic to it. You will learn to turn your sales funnel into a high converting sales funnel. I found it fascinating to see all the other ways you can get traffic to your sales funnel. If you see it through by putting in the effort and sticking with the challenge for 30 days, I guarantee you that you'll make money.
One Funnel Away Challenge Week 5 – Post Training
This final week represents a chance for us to catch up and plan for the next 90 days. In addition, you will have to plan your content, decide on the long-term strategy to drive traffic and decide what offers you want to promote. In summary, the One Funnel Away Challenge will teach you how to create a funnel, generate live traffic, and convert it into sales. The challenge can be completed with dedication and one month of your time.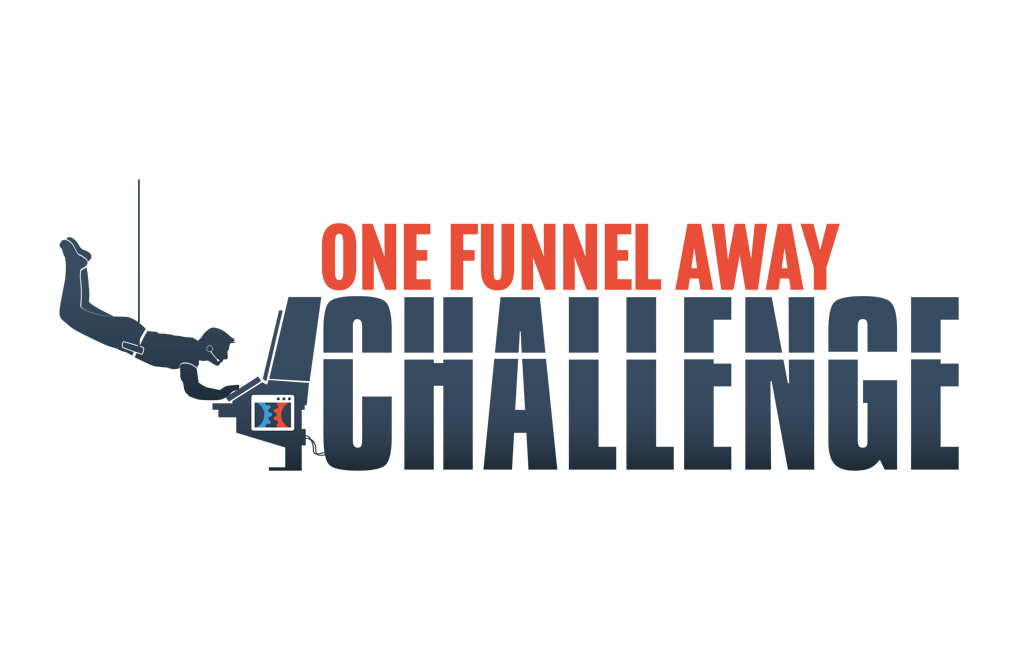 What are the Benefits of joining the One Funnel Away Challenge
There are a few other benefits of the OFA Challenge that I want to highlight, besides receiving thousands of dollars worth of materials that you can't get anywhere else. By joining the One Funnel Away Challenge, you will have the opportunity to meet Russell, Julie and Stephen, which are three extremely successful entrepreneurs in the world of online marketing. The challenge members will also be able to interact with you, and many of them will be excellent people to network with. Here are some of the main benefits that you will find from joining the
one funnel away challenge
.
1. You will learn from some of the world's top digital marketers
There are very few online marketers in the world more respected than the instructors of One Funnel Away Marketers. The experts that you'll be learning from will include Russell Brunson and Julie Stoian. Therefore, you can be assured that you will not waste time learning from someone who isn't a real expert.
2. You will learn how to build an effective sales funnel from start to finish
It will teach you everything you need to know about sales funnels if you are unfamiliar with them. You will be able to create a sales funnel independently after completing this 30-day training.
3. The One Funnel Away Challenge is only $100
You won't have to spend thousands of dollars to participate in the One Funnel Away Challenge even though it's an intensive course. For only a hundred dollars, you can access the most comprehensive funnel building course available on the internet. It may make you wonder why you are only charged a hundred dollars for such a comprehensive challenge course. The reason is actually quite straightforward.
Russell Brunson
hopes that you will end up using Clickfunnels to create your future Sales Funnels. That said though, pursuing the use of Clickfunnels is optional and you are not obligated to use it if you are not ready to make the investment.
What are the Cons of the One Funnel Away Challenge
The One Funnel Away Challenge is intensive, which means that it will require your full attention or you will start falling behind and potentially failing. That said though, what's 30 days of hard work with the skills that you will learn afterwards right?
You might not be able to make a lot of money right away after completing the One Funnel Away Challenge. Even if you learn how to build the perfect Sales Funnel, you will still need to have a great product that people will want to buy from you.
One Funnel Away Challenge Frequently Asked Questions
How much does the One Funnel Away Challenge Cost?
The
One Funnel Away Challenge
will cost you $100. Then if you want to use the physical OFA kit, you'll end up paying shipping fees of $19.95 within the USA and $29.95 if you are living outside of the US. The digital-only version of the course is just $100 though.
Is the One Funnel Away Challenge worth the cost?
Given the number of materials and information that you will learn in this course, I would say Yes! it is definitely worth the cost. It's not just another online course either, to put it into perspective Russell Brunson himself at the time of writing charges $100,000 for a day of coaching with his clients. With this online course, you get to have that coaching for 30 days along with 2 additional coaches for a mere fraction of that price, and here's the kicker, if you are not satisfied with the outcome of the course they offer a 30-day money-back guarantee. You literally can't go wrong.
Sign up for the One Funnel Away Challenge today
.
Do you need a ClickFunnels membership for the One Funnel Away Challenge?
No
. Although using ClickFunnels would make the creation of Sales Funnels much easier for the online courses success and generally for your online business as it is designed for this purpose, you don't actually need to use it for this challenge.
Can I join the One Funnel Away Challenge at any time?
No, unfortunately, you can't join the challenge at any time. This is a result of the challenge being so hands-on and intensive, that Russell, Julie and Stephen need to work the challenge around their schedules to give you their most personalized attention. The One Funnel Away Challenge normally runs every 2 weeks. Check the next available starting date, it's normally on a count down timer in the top right-hand corner of the
OFA challenge site
.
Is the One Funnel Away Challenge a Scam?
No, it's not a scam, the One Funnel Away Challenge is the real deal
but it may be for everyone. Many people have made large financial gains from the information that they have learned from the challenge. After making over a million dollars from a single sales funnel, Russell Brunson created this coaching program. To be able to generate substantial profits from an online business, his goal is to help those who are still struggling to make a highly profitable online business.
One Funnel Away Challenge Review: My Final Verdict
Since I have taken numerous courses in the past but was unable to apply them to my business, the One Funnel Away Challenge changed how I think about online marketing. In the ofa challenge course, I learned how to create leads and sales for my business every day, using proven marketing frameworks. I initially thought the One Funnel Away Challenge was another online course, but it turned out to be much more than that. Unlike other courses online, it offers something unique. This course covers everything you need to know to set up a profitable funnel, generate leads, and make your first sale. Which challenges or obstacles did you overcome in generating more traffic? In this course, you will learn every aspect of starting online businesses.
Does the One Funnel Away Challenge have a Money-back Guarantee?
Yes! if you are not completely satisfied with the training the team will offer you a 30-day money-back guarantee.
Do I need more own products for the One Funnel Away Challenge
No. It doesn't really matter what you end up selling and you don't need a physical product either. Many people end up selling digital products for online businesses and following this training have made wildly successful online business
Does the One Funnel Away Challenge Have An Affiliate Program? 
Yes. The One Funnel Away Challenge has a terrific affiliate program. Affiliate marketers will love this part more than anything else. The OFA Challenge and the suite of Clickfunnels products are all available as affiliate products. You can be an affiliate for any or all of the products. You can even become an affiliate for a series of books Russel has written that he often promotes during the One Funnel Away Challenge. The real kicker is that some of these affiliate programs give you 100% commission on referrals, which is super sweet. There is a minimum threshold you need to complete by promoting other products. With ClickFunnels, the commission is 40%. It may also be a recurring commission. It has great earning potential.
How Do I Log Into The One Funnel Away Challenge?
You can sign up for the One funnel away challenge in just 3 steps:
Just click on the OFA Challenge link, which takes you to the official OFA page.
Press the button to Join the Challenge now
Enter your details and credit card information
When all of the above steps have been completed then you will be able to log into your account.
What Is The One Funnel Away Share Funnel?
By the end of the 30 days challenge, you will have created and launched your first online sales funnel so that you can finally make money online with it. This online sales funnels already in place. Utilize it to grow your business. You can customize it to fit your needs.
Final thoughts
I hope that this one funnel away challenge review has answered all of your questions, with the help of and training from the experts in this ofa challenge, building funnels and generating leads to generate sales online and the creation of sales pages will become a lot easier for you. Let this challenge become your first step in building funnels. The best part of all is that if you're not happy with the results of this training then you are entitled to a full refund. Do yourself a favour and sign up for the
One funnel away challenge
.
What is leadpages? Leadpages is primarily a landing page building...
What is Leadpages